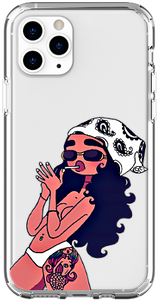 "Seriously" Black Girl Magic Melanin Poppin Transparent iPhone Smartphone Case
This unique iPhone case provides stylish protection for your new mobile phone against abrasion, scratches, dirt, dent, or any type of impact damage.
The form of the flexible silicone case fits snugly over the volume buttons, side button, and curves of your device without adding bulk. The soft smooth lining on the inside helps protect your phone. On the outside, the silky, soft-touch finish of the silicone exterior feels great in your hand. And you can keep it on all the time, even when you're charging wirelessly.
Designed with TPU Bumper for drop protection, Beautiful and Protective at all times.
All ports are precisely cut out, the ports and openings are in the right spot.
Compatible iPhone Model: iPhone 6 Plus
Compatible iPhone Model: IPHONE 6S
Compatible iPhone Model: iPhone 6s plus
Compatible iPhone Model: iPhone 5s
Compatible iPhone Model: Iphone SE
Compatible iPhone Model: Iphone 5 SE 2020 
Compatible iPhone Model: iPhone 7
Compatible iPhone Model: iPhone 7 Plus
Compatible iPhone Model: IPHONE 8 PLUS
Compatible iPhone Model: IPHONE 8
Compatible iPhone Model: IPHONE X
Compatible iPhone Model: IPHONE XS MAX
Compatible iPhone Model: IPHONE XR
Compatible iPhone Model: iPhone xs
Compatible iPhone Model: iPhone 11
Compatible iPhone Model: iPhone 11 Pro 
Compatible iPhone Model: iPhone 11 pro MAX
Compatible iPhone Model: IPHONE 12
Compatible iPhone Model: IPHONE 12 Mini
Compatible iPhone Model: iPhone 12 Pro
Compatible iPhone Model: iPhone 12 Pro Max
Compatible iPhone Model: iPhone SE 2020
Function: Waterproof
Function: Dirt-resistant
Function: Anti-knock
Material Features:: High quality Transparent Soft silicone TPU