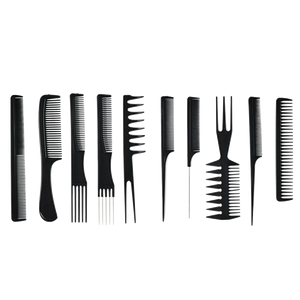 Professional Afro Grooming and Hairdressing Combs 10 Pieces Set
Manage your hair with myriad options. A good hairstyle can change your whole day, and this 10 piece styling combs set gives you everything you need to be in total control. Choose from a variety of light, durable combs to master any style all by yourself.
The entire set of styling combs incorporates ergonomic design concepts for a better grip, suitable for short and long hair, bangs, curly braids, mid-points, frizzy hair, and everything in between. The package includes 10 elegant styling combs that are soft and flexible without hurting hands. These combs will make anywhere feel like a top quality hair salon.

Size: 15X7.5cm
Material: Metal
Color: Black Handle And Stainless Steel Metal Teeth
Net Weight: 30g
Material: Stainless steel
Package include: 1-10Pcs Comb
Extras Features: Long teeth ensure optimum efficacy in all types of hair.
Rounded end protects the scalp.
Anti-slip bands allow for better gripping and control.