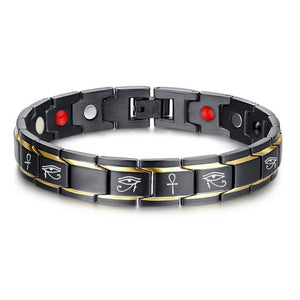 Magnetic Bio Energy Healing Bracelet with Engraved Ankh and Eye of Horus
For those who have a love for everything Ancient Egypt, here is a fine Magnetic Healing Bracelet with an Ancient Egyptian Theme. 
With Double extra extra strong high powered 3000 Gauss Magnets helping to relieve the symptoms of arthritis, carpal tunnel and tennis elbow. These are the strongest magnets available, much stronger then any other weaker magnetic products on the market!
PURE TITANIUM with BLACK IP PLATING & 100% HYPOALLERGENIC! Titanium is extremely strong and incredibly light weight you'll hardly know you are wearing it. Titanium is an extremely robust and very low maintenance metal perfect for everyday wear it will not irritate your skin or cause the allergic reactions that steel and copper can.
Size: 8.5 INCH LONG width: 12mm
Weight: 49.8g
Clasp Type: Toggle-clasps